Planning your besties hen party? Let us take the stress out of the party planning process with some great hen party ideas. This article looks at hen party gifts that will make your event extra special :).
HagParty.ie have the best party packages available for the ultimate hen party experience – get in touch here
Also, we have hen party experts providing their top tips for planning a hen party people will remember for years to come. Here are some of the most popular posts :
Lisa's Wedding World did a great post : Top Tips for Planning Your Hen Party
Andy from The Wedding Speech Guy has gone to more stag parties than anyone I know :). He has some great tips for planning big parties such as this : Hen Party Guide
Below we will talk about gifts for the bride to be but what about all of the hens that are attending?
DIY Hen Party Gifts
Balloons
Hen Party ideas : Personalised balloon messages for the bride to be.
What you need to do :
1. Ask the hens to blow up their balloon and instruct them to clamp the bottom with a clip!
2. Now it's time to write some messages (sharpie markers work best :)). Once complete, remove the clamp, deflate the balloon and you are good to go!
3. Present the balloons to the hen who can then blow them up and read the messages – this is a great idea for either the final night of the hen or as part of your hen party memory box.
Pic credit : Lisa's Wedding World
Photoshoot
Hen Party gifts doesn't get much better than this plus it is super easy to recreate!  Grab wigs, giant sunglasses, blow up instruments and moustaches and strike a pose!!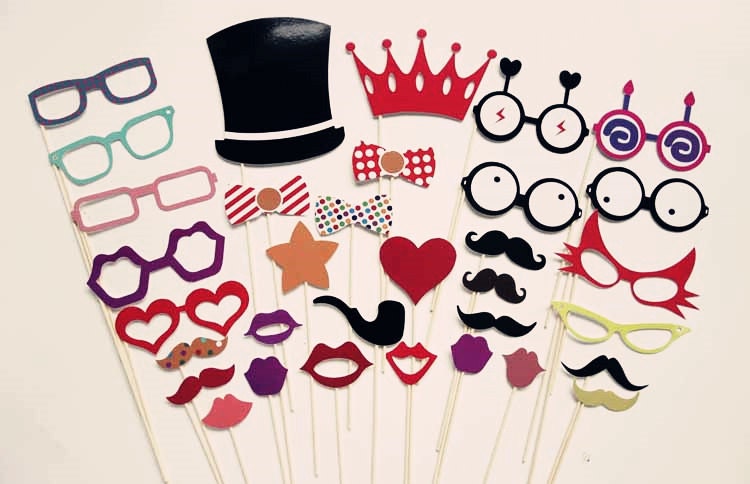 Ideally there is a Polaroid camera to hand for instant pics of the group. Collect the pics and ask the hens to write a message to the bride on the back. Hen party gifts for the bride doesn't get much bettter than this plus it gets the entire group involved – win win!! This is one of our favourite hen party ideas :).
Lipstick Kisses
Again super easy to recreate and a gorgeous hen party gift for the bride(s). I think this one of those hen party ideas that feature in almost all hen parties up and down the country it's a classic :)! Ask each hen to don some lippy and kiss and sign a sheet of card. Frame the card and it will be treasured by the bride to be forever.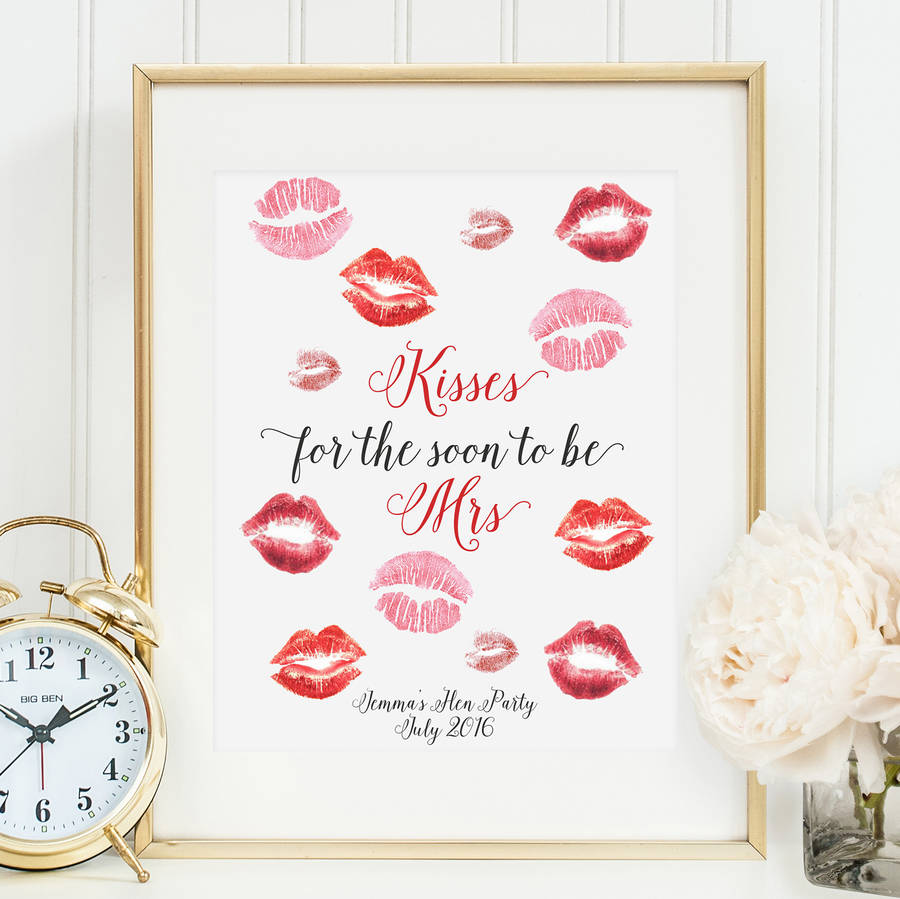 Buy this here
Personalise it for the bride
Hen Party Gifts are getting really popular! Present the bride with a hamper of her favourite things – jellies, items from her favourite beauty brand, painkillers (for the inevitable hangover!) whatever springs to mind and is unique to the bride in question will work!
Photo Collage
Time flies when you are having fun! Capture each and every moment by creating a photo collage for the bride to be (deal pages always have them on special offer so keep an eye out!). One of the most important things to do is to either create a group whatsapp or viber group with all of the hens. Ask your hens to upload all the pics they have taken during the hen party and create a collage of the event :). A lot of brides choose to include the hen party collage as part of their wedding decor too so maybe leave the really cringey pics out!!
This is your life!
This will need a bit of work but it is SO worth it! Ask the brides family for pictures of their childhood (think first day of school, debs, that time they came first in the egg and spoon race etc!), ask the brides friends for pics of the bride throughout the years (again having group messaging set up will help heaps with this!) and either create a scrapbook or a slideshow of all of her pics to date! Call it the "Miss to Mrs Years :)"! Of course keep a few pages free for pics of the big day!!
Keep an eye out for our other hen party ideas in our Hen/Stag Planning section xXx